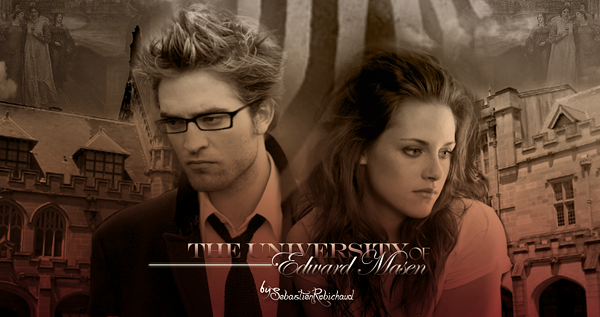 Each interview I do or envision is done differently, in a way that highlights the particular author the best. In this interview, @foufymas and @RobsCumDumpster both helped me interview SR. Since University of Edward Masen is such an important fic to the fandom I thought fan involvement was a must.Now, for the interview:
I wonder if he plans on making this publishable by changing Edward/Bella to other people. Does he think it would change the dynamics too much? Does he think the story works on its own, or does our original love of Twilight change our view of the story?
This is a good question. Many of my readers have written to me begging me to publish UOEM so that they can have a paperback copy of the story on their shelf or to share with a friend. Clearly, this request is very flattering. Only the readers can tell if the story itself works on its own or only within the Twilight universe.
As a guy, what made him want to write FF? It's so female dominant. And how much of him does he think is reflected? I.E., music, ETC.
I'm new to fan fiction in general and I'll be honest, my primary reason for becoming involved was because I saw FF as a venue in which I could try to be a fiction writer. I didn't really think of myself as a tremendous Twilight fan or an adherent to the FF universe. I simply saw an opportunity to write and post a story and receive feedback on it. I didn't expect anyone would read my story. Luckily, TLammy found my story shortly after I posted the Prologue and first chapter and she told her friends about it.
I would say that a lot of me is reflected in the story but I'll leave it to the readers to guess about what parts that is.
Does SR know he's got women swooning for him?!
Um ... this is news to me. (blushing)
Why did she style Edward as the darker of the protagonist, when peter would have just been perfect (at least on paper)?
Some of the Ladies of the Twilighted thread styled Prof. Masen as "Byronic." It was a conscious decision on my part to paint him as I saw him - a type of North American academic with a certain degree of stuffiness and pretentiousness. In that sense, he's real and all too common. But given that the narrative of UOEM was overlayed with Dante, I needed to express the flaws of the hero and his journey through Inferno.
Peter has a heart of gold, it's true, but he isn't perfect. He's Virgil. And once again, there were certain character qualities that he needed to have in order to keep with the Dantean elements of the narrative.
There are themes like, could for your 'dream' person be compared to reality, how does idolization of Real/Perfection compare? *wink*
I'm too old to believe in human perfection. I'll leave perfection to the inhabitants of the Paradiso. But I believe in grace and redemption and thus I don't think human beings should be satisfied with their own imperfections.
During the wedding, Bella asks Ed, if Carlisle would ever remarry. He said that Esme was his Beatrice as B is his. So, how does that translate to real life? ;)
I couldn't make a universal claim as an answer to this question except to say that some persons find their soul mates and once they've lost them, eschew romantic entanglements. C.S. Lewis and Sheldon Vanauken are examples of this.
Admittedly Ed, although not the perfect love on paper compared to Peter, how does his passion translate into perfection for B?
In B's psychology, Prof. Masen is perfect for her, even though he is imperfect. From this one could infer that she's claiming that they match well - their strengths and weaknesses balance one another, they have common interests and companionable moments, etc.
How did they fall into the Twilight universe? Because Twilight is like miles ...galaxies away from Dante?
Part of the answer to this question is autobiographical on my part - I used Twilight FF as an opportunity to try my hand at fiction writing. Part of the answer to this question is that UOEM is an adult retelling of Twilight, so that even if one ignored the Dantean elements, one would see that it is fairly canonical.
What does he thinks makes a woman beautiful, because there's Angela w/comparable beauty/knowledge -vs- Bella, a plain beauty/brain. If you think about it, Bella and Angela are both (on paper) beautiful intelligent people, one would be better suited for E's lifestyle. So, essentially why did Edward choose Bella, instead of Angela? Of course it's Twilight - we know it's going to be an E/B story. The question is how does Edward make that instinctive choice for good? Even with his history of his own Mother (not Esme)?
Edward tells Bella more than once that it is her goodness that first attracted him to her. So one could say that goodness makes one beautiful, while vice makes one unattractive. Edward's acceptance of Esme as his mother is predicated on a similar choice - choosing charity and love over indifference.
If you look at UoEM as a whole, it's a story of men. Most of the male characters are well fleshed out while the women aren't, except for Bella. Is this a reflection on any one thing in particular?
I disagree. I think that the female characters ARE fleshed out, including Angela and Professor Picton. And even Esme, although it's a different kind of character development. The readers must judge this for themselves. But all three women are minor characters, while most of the drama of the story surround Edward, Bella and Peter.
How does one attempt to even find the four, or was it five, types of love that Bella/Esme had? It was covered in one.
Edward attempted to explain this in reference to Bella in his lecture in Florence. For Esme, one would just have to apply the categories and see her love as manifested in her relationships to her husband, her children and Bella.
How difficult was it to wait until the 23rd chapter to write the first lemon? The ladies in this fandom love their lemons. Did you fear losing readers by making them wait so long or were you confident enough in the story that the lemon was just a cherry on top, per say?
Well, I didn't expect people to read my story and then I didn't expect people to like it because admittedly it's strange. I even toyed with the idea of leaving the lemons out entirely since I'm not very good at writing them. That's when the teasing references to lemon rind, etc. began. For a time I thought those might be the only lemons in the story.
One major theme that runs parallel in both Twilight and UoEM is the chastity/virtue aspect. What makes them both same and different?
In UOEM, Edward pursues chastity only after his experience at the crypt of St. Francis. It isn't part of his character for most of the story, while chastity is important to Bella only insofar as she prefers love to sex.
How much of you, as a person, comes into your story because every writer brings a little of themselves into their stories and leaves them there? Do you have a background in art, literature, history or all of them?
I would say there are pieces of me in the story scattered throughout. Yes, I have a background in literature and history with only a smattering of art.
As I believe Stephenie Meyer brought a new awareness to the classics, like Wuthering Heights and Romeo and Juliet, do you feel you enlightened the readers with the deeper aspects of the story, like the art and literature you tied into the story? Was that your goal?
I wouldn't say that my purpose was to enlighten, but rather to illustrate by analogy certain aspects of the story through art and music.
How do you feel now that this epic story is coming to an end and what are your upcoming plans?
I'll miss UOEM but I'm eager to move on to other projects. I haven't decided what to start on next after my break but I think it will be a vampyre story.
Peas or Carrots? Carrots. (Wait, are the peas mushy?)
Favorite dessert? Tiramisu
Favorite genre of art? Italian Renaissance
Email or letter? Letter, definitely
Guilty pleasure? If I were to tell you it would only compound my guilt
Most inspiring place you have travelled and why? Florence - the art, history, culture, the gelato
Thank you so much for doing this and for your patience and for giving such an intellectual buffet to your readers. You are truly a gift to the fandom and your story has left an impression on the readers that make them expect greatness, as they should. To give the time and energy you have to your story, without money is truly an act of love. Thank you from everyone in the fandom.
Kiva